Sunday Aug 15th 1999 was a red letter day for the club when our Men's team gained promotion to the top flight next year by virtue of their 2nd place finish in Div 2 of the National League.
There they will join our women, who gained promotion in 1998, and our small club will join the very small number of clubs that have a Men's and Women's team in Div 1. This result was the culmination of a major effort, on and off the track, over the last three years and great praise is due to every one involved.
The team was; Brian Scanlon, Capt., James Sullivan, Brian Barry, Robert Wade, John Windle, Michael Harrison, Darren O'Brien, Shay Fitzpatrick, Paul Doyle, Eoin McGrath and Brian Swaby.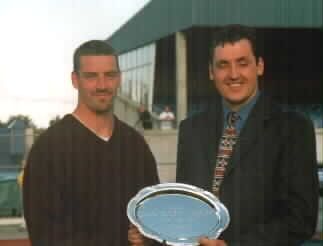 Brian Scanlon, Captain, receiving the trophy for 2nd place in Div 2.